Jack Roush heads up ROUSH Industries, Inc., which employs more than 3,000 people and operates more than 50 facilities in multiple states and globally. Although primarily known for providing engineering, management and prototype services to the transportation industry, Roush has developed a significant role in providing engineering and manufacturing for the electronics, sports equipment, aviation and motorsports industries as well.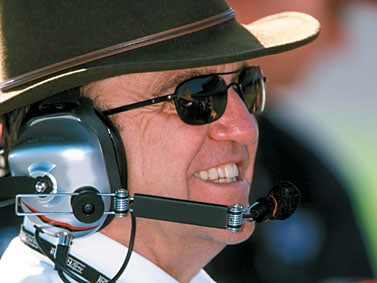 For over 45 years Roush has been committed to winning on and off the track. Having won 32 championships and more than 400 races in drag racing, sports car and stock car racing, Roush is one of professional sports' premiere organizations. With championships in NASCAR's top three divisions, Roush Fenway Racing exemplifies Jack Roush's tradition and success and is poised to continue their winning tradition well into the future.
Born in Covington, Ky., in 1942, Jack Ernest Roush was always interested in finding out what made things tick. He received his mathematics degree with a minor in physics from Berea College in 1964 and moved to Detroit to work for the Ford Motor Company that same year.
While working for Ford, Roush was drawn to the company's extensive motorsports activities, and in 1966 joined a group of fellow racing enthusiasts called "The Fastbacks." After leaving Ford, he partnered with Wayne Gapp in 1970 in a racing venture that would see the duo attract national attention by winning many national events and one championship each in NHRA, IHRA and AHRA with their Pro Stock race cars. He went on to earn his Master's Degree in Mathematics from Eastern Michigan University in 1970.
In 1976, Roush formed Jack Roush Performance Engineering. His success on the track, combined with his reputation as a performance engineer helped his young business thrive, and although he stopped operating a race team in the late 1970's, his company stayed well entrenched in the sport; building engines for other teams into the early 1980's.
In 1984, with Ford's encouragement, Roush returned to racing in the Sports Car Club of America (SCCA) and International Motor Sports Association (IMSA) road racing series. He went on to claim 24 national championships and titles in the two series, including 12 manufacturer's championships, winning 119 races, while working with acclaimed drivers such as Tommy Kendall, Scott Pruett, Willy T. Ribbs, and many others. Roush also captured 10 consecutive sedan class championships at the prestigious 24 Hours of Daytona, teaming with drivers such as Kendall, Pruett, Mark Martin, Bill Elliot, Ricky Rudd and Kyle Petty, as well as actor Paul Newman and Olympic star Bruce Jenner.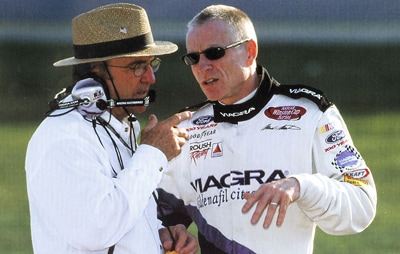 In 1988, again with Ford's encouragement, Roush launched his first NASCAR Cup team with driver Mark Martin. In October 1989, Roush and Martin claimed their first NASCAR Cup victory at North Carolina Motor Speedway (the first of 121 to date). The two would go on to form one of the most successful partnerships in NASCAR history.
Roush joined forces with Robert and Doug Yates to form Roush Yates Engines in 2005. The engine shop, located in Mooresville, N.C., supplies horsepower for Roush Fenway Racing, Richard Petty Motorsports and many other Ford teams in racing Sprint Cup, Nationwide, Truck and the ARCA Series.
In 2007, Roush Racing and Fenway Sports Group (FSG) announced the formation of Roush Fenway Racing, an unprecedented relationship that brought together two championship organizations with a distinguished track record of success in their respective businesses and sports.
As of January 2012, Roush Fenway has won 5 Driver Championships across NASCAR's three premier series. The win totals are 50 for truck, 124 for Nationwide, and 125 for Sprint Cup, bringing the grand total to 299. In 2010 Roush Fenway Racing turned its one millionth mile in NASCAR's Sprint Cup series. 2012 got off to a great start with Roush Fenway celebrating the beginning of its 25th year in NASCAR by racking up its 300 NASCAR victory as Matt Kenseth won his second prestigious Daytona 500 event in February. In total, 15 different drivers have driven Roush Fenway Ford cars and trucks into NASCAR's victory lanes during its first 24 years.
ROUSH Industries is a Tier One supplier of fully integrated engineering and development support services to the worldwide automotive industry. ROUSH Performance effectively combines the engineering low volume manufacturing expertise of ROUSH Industries with the motorsports experience of ROUSH; racing history to produce complete performance vehicles, modular engines and related high-performance parts. ROUSH Manufacturing accordingly provides prototype and production parts, tooling and paint services.